Welcome to the Hole In One Club, home of our exclusive range of Golf related collectables.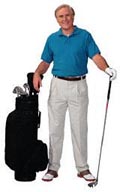 Producers of unique gifts for golfers.
Make your next golfing event one to be remembered. Here at the hole in one you will find a range of unique handcrafted golfing gifts, which will delight any golfer.

Tired of the same old golf gifts?
Choose from the many individually hand crafted golf gifts that can be personalised with individual hand engraving or with a company logo. Our golf items are all hand produced using traditional methods making them more prestigious and unique.

Choose betweeen Golf Trophies, Stick Pins, Lapel Pins, Cufflinks, Plaques, Golf Forks, Ball Markers, in a choice of Gold, Silver or Pewter.

Our resident craftsman, Mark Elliot achieved his first Hole in One at Filey Golf Club in order to savour that moment forever manufactured a sterling silver castle golf tee. This he set into a solid wood base and mounted the golf ball that he achieved the memorable Hole in one with.

This style of trophy now takes pride of place in the holein1club golf collection.

The rest of the range of golf items were created and shown around our golf club to see what the reaction would be.

The result was quite astounding and we sold pieces not only to individuals of the club but also to visiting societies and corporate businesses that were holding golfing events.